The possibility to grow professionally has always been one of the key factors candidates consider while looking for a new job.
At WizardWriters you can build an exciting writing career and expand your areas of expertise!
What it takes to get promoted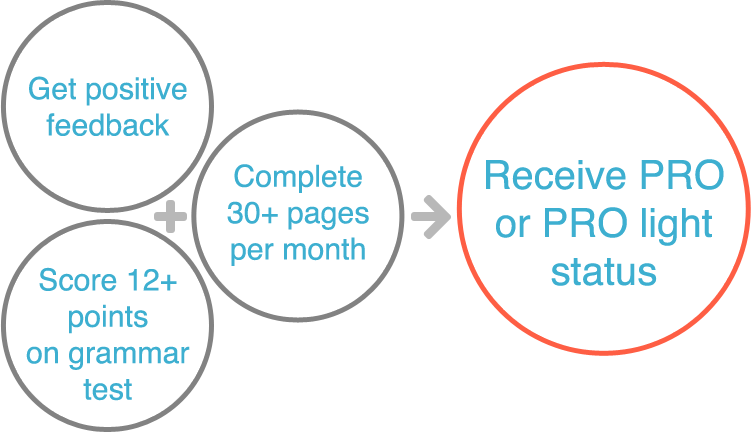 Types of promotion
Our writers have an opportunity to upgrade their statuses to PRO and PRO Light ones after two months of cooperation.
New status brings numerous advantages, since such writers are considered to be more reliable, experienced and knowledgeable.
Furthermore, their applications on orders are reviewed in the first place.
Benefits you enjoy
Writers with PRO light status receive a bonus in amount of 15% for every completed order;
Writers with PRO status receive a bonus in amount of 25% for every completed order and can take some writing projects automatically.
Requirements:
A test score for grammar of at least 12 points;
Ability to write minimum 30 - 50 quality pages per month;
No customers' complaints about the quality of your work;
No late or plagiarized works submitted;
A minimum of 20 orders completed successfully.
How to upgrade your account
To get promoted, you simply have to click on "Get a promotion" button, which is available in your personal account, select the type of promotion you are interested in, and hit "Submit" button.
If you are skilled, motivated, and hard working person, we will be glad to welcome you to our team and offer various promotion opportunities for your personal and professional growth!
Latest writing projects
$237

Health Informatics

$144

Nursing

$129

Financial Management

$216

Pharmacology

$147

Engineering

$95

Management

$636

Pharmacology

$83

Business

$46

Financial Management

$65

Economics